I've been working on getting some new models finished so I can take em to OMTS on Sunday. They are looking good and all I have to do is give them a spray.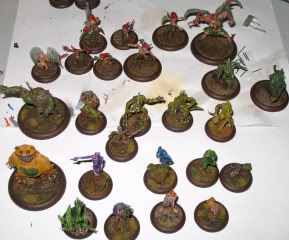 I have to make some custom terrain for each faction such as
Neverborn
3" forest
5" Claim jump objective
Arcanist
Ice pillars
5" Claim jump objective
I found the perfect base for my 3" forest, my 40K small blast marker (I don't play 40K anymore Yawn). Decided to keep blast marker and I cut a 3" circle from mdf.
So here is the 3" forest
And here is the 5x5" claim jump, the idea is a path leading into a ruined neverborn hideout